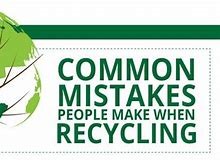 From Keep Lee County Beautiful:
Do NOT recycle the following items!
Plastic bags
Wire or plastic hangers
Shredded paper
Styrofoam
Waxed cardboard (ice cream containers, milk containers, some juice boxes)
Dirty take-out food containers (greasy bottom of the pizza box, recycle the top.)
Anything containing food or if the item is dirty.